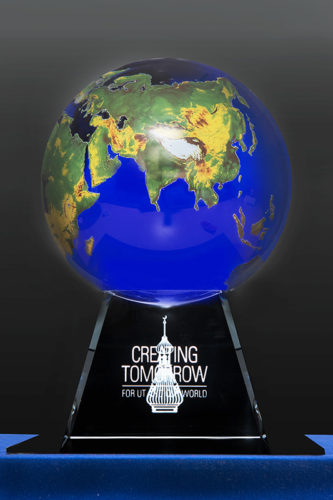 I was recently asked by long-time client University of Tampa to photograph a dark blue spherical crystal globe award that sits atop a clear crystal base, and which sits atop a blue velvet box. I took one look at this thing and actually thought the task was quite literally impossible. At least impossible to shoot in one single shot.
Lighting is always at the heart of any assignment, but this one was a doozie! Knowing quite quickly that one shot wasn't gonna cover this one, I went to work setting up and lighting 3 separate shots. One of the dark globe, which actually glows a beautiful deep blue when you hit it with the right light. The challenge here is that when you're lighting a crystal sphere, everything in the room, and even somewhat behind the sphere is reflected on the surface. Pretty tricky to choose where to put a light when you know it's going to be reflected in the globe. I lit with a single light source that left a hot spot, which I corrected after the fact.
Second, I created a second shot where I lit for the clear crystal base, paying close attention to the legibility of the etched graphics. The only way to get these to show up was to light against a dark background so that the etched detail would reveal itself.
Lastly, I lit a simple gray background shot that would tie everything together. Here are the separate shots that contributed to the final, and of course, the final image, which I put together in photoshop while doing a little reflection management and cleanup.
Quite simply put, this was the most complex process I've ever used to come away with what could be misconstrued as a 'simple product shot.'
The moral of the story is that sometimes, we have to let go of impossible and find a solution, no matter what. Enjoy!
http://thompsonbrandimages.com/wp-content/uploads/2017/11/UT-Globe-Composite-Final-Image-800p-e1511364962753.jpg
500
333
Bob Thompson
http://thompsonbrandimages.com/wp-content/uploads/2016/09/logo.png
Bob Thompson
2017-11-22 10:36:22
2017-11-22 10:42:30
One + One + One = Final Image