Events & Meetings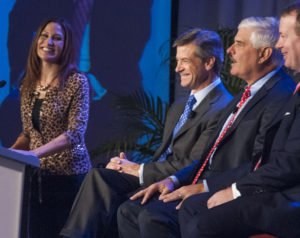 Thompson Brand Images takes event and meeting coverage to a new height, creating world-class images where even facial expressions are pleasant and authentic, even when speakers are at the podium! Eye-popping compositions capture the details of stage design along with the action and emotion on stage. If recording the details of your major event artfully counts to your viewers, then let TBI take the reins. We can shoot, tweak and have shots ready to shoot out on Social Media while your speaker is still on stage!
In today's competitive market, phone camera imagery just won't cut it. Your company has invested tens of thousands, if not hundreds of thousands of dollars on your conference or meeting – make sure the imagery that comes from it is a match for your efforts. We produce stunning imagery of speakers, socials, and anything that happens at a sales conference, convention or meeting.
Tip! – Consider having headshots done of your attendees while everyone is at the same place at the same time, often the biggest challenge in getting full coverage for headshots company-wide.
---
---
DID YOU KNOW? That TBI owner Bob Thompson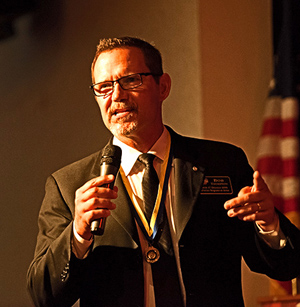 is a professional emcee and musical entertainer? To date he has infused over 40 large-scale corporate and non-profit events with energy, spontaneity and humor as master of ceremonies, and has entertained, whether as a background musician, or full-on keynote performer at 15 events and counting. Just because your CEO leads your company doesn't mean he or she has any business setting the tone for your event or meeting! Bob has been in front of crowds with a microphone his entire adult life, starting while in the Air Force, when he'd host his unit's "Hail & Farewell" events back in the 1980's. These days he leads Rotary meetings and District Conferences regularly and has a nice resume of large events that he has either presented as a keynote or emcee'd. He even has a year of formal stand up comic training to augment and spice up his presentations! Add the fact that he has been a professional musician for almost 30 years (he performs as a solo, duo or trio) and you have someone who can handle the flow of ANY event you can dream up. Call for a free consultation and to find out Bob's plan to make your event a raving success! There are many ways he can help!
Here is a list of upcoming events:
12/9 Ciccio Cali – Music with Bob Thompson Trio – Tampa, Florida
12/10 Private Party – Music with Bob Thompson Trio – Land O'Lakes, Florida
3/18 Taste of New Tampa – Emcee, Music – Wesley Chapel, Florida
3/30/17 Rotary District 6890 Conference – Emcee – Cruise to Cozumel
5/5-7/17 Rotary District 6380 Conference – Emcee, Music – Troy, Michigan
July 2017 Florida Society of Association Executives – Emcee, Photo, Music, Keynote Address – Palm Beach, Florida